While I loved working at Ipswich High School for Girls, I was keen to put my healthcare knowledge to use (and find a better paid job if possible!), so I was delighted to be offered at job at NHS Suffolk as the Infection Control Team Data Analyst.
I knew very little about infection control when I joined the team, but let me assure you, once I left I knew all there was to know about Clostridium difficile and MRSA!  This was a really great job, giving me the opportunity to develop my techie skills while learning how large corporations worked.  I was responsible for writing board reports, presenting data for others to use at high-level meetings, and sorting out the information flows we had coming into the organisation so that we could validate and verify the information.
The business venture
At this time I also started running my business - then Suffolk Computer Services - providing Joomla! website design and IT Support for small businesses.  I honestly didn't expect to get much trade, but within a few months I had a steady trickle of customers and my first IT client (who went on to become long term customers).  At this time, it was simply another way of getting in a bit more money to keep the bills being paid - and I never thought I would ever be doing it full time!
Buddhism discovers me!
I'd had an interest in Buddhism for a long time, but for some reason I felt compelled to act on this interest in the winter of 2009, and I started attending newcomers nights at the local Buddhist centre.  Immediately I felt like this was what I was here for - some kind of realisation that I had always known it, but never really known.
I went on my first retreat within a few weeks - the Young Women's Retreat at Taraloka - at which point I was absolutely certain that I was Buddhist, this was for me, and that I needed to make some big changes in my life.  First to go was excessive drinking and bad language - which in retrospect were much easier than the more subtle things I'm working on now!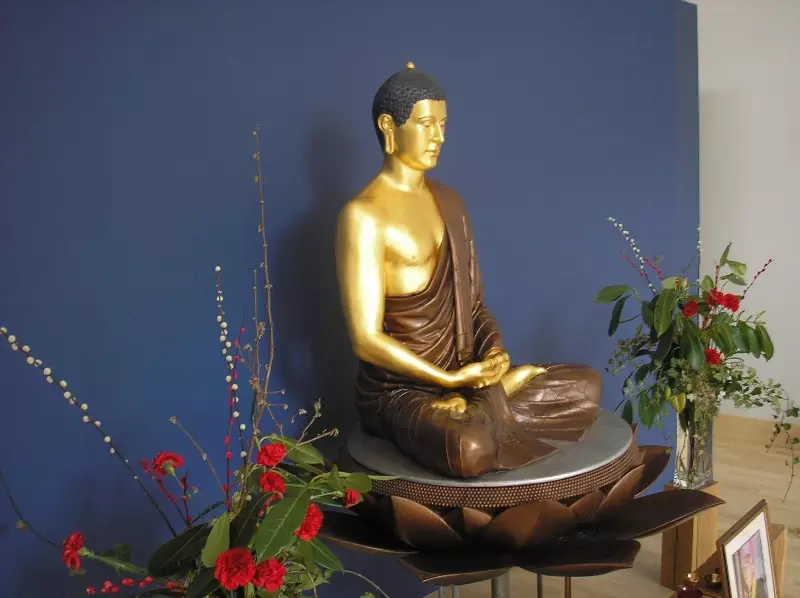 Health catches up with me
Within a couple of years working at the NHS I started to get pain in my thumb which was identified very quickly through occupational health as being relating to hypermobility (something I was diagnosed with during my Physiotherapy training but never caused any bother).  I was put in a splint and given instructions to rest and ice, but progressively things got worse, with shoulder and neck pain swiftly following, and later complete and utter exhaustion.  I don't know what caused this but I think it was probably a combination of a lot of conditions coming together, but the result was being signed off for four weeks. 
Some days I was able to get out and about, other days I was barely able to get to the loo.  A friend was kind enough to drive me to the Buddhist Centre each week which, at times, was my only outing.  The only thing that kept me going at that time was the Buddhist teaching that all things are impermanent and subject to change - and that included my pain, fatigue and general inability to function.
After this period of illness it quickly became apparent that I would not be able to sustain working in my role at the NHS, and I handed in my notice.  A friend was forming a company which needed someone to manage the day to day operations, for three days a week, so I jumped at the chance.
Redundancy and opportunity
Unfortunately three months into the job, the company lost several contracts and was unable to sustain my employment, so I was made redundant.  Faced with a tough decision of trying to find work, or starting my business on a full time basis, I went for the latter.  At the same time, I had decided to re-brand the business because I wanted it to reflect more my ethical values and the way I wanted to run the business, and hence on 14th September 2010, Virya Technologies became my full time employer!  Subsequently I went on to form a Joint Venture business with Marco Dings, called Virya Group.
Around this time I founded with Matt Meyrick the Joomla! User Group Suffolk (JUGS) for local Joomla! users to meet, talk and share knowledge on a monthly basis.  I also helped to form the Suffolk Internet Marketing & SEO Specialists group with Sam Parnell & Max Shelley, and the Mautic Meetup Ipswich.
Moving on
After nearly seven years of running my own businesses, I moved on to work at Cambridge Assessment English as the Digital Communications Manager in the Digital & New Product Development team for nine months (great job, not so great commute!) - check out some of the exciting stuff they play with at https://beta.cambridgeenglish.org - they're building the future of English language learning and assessment!
I am now working in a fantastic role leading an awesome Open Source community as Mautic Project Lead at Acquia.