Running our first in-person event in covid times
Today I am just heading home from a really wonderful few days full of energy, excitement, collaboration and enthusiasm like I haven't seen in several years.
The Mautic Community came together this week in Hasselt, Belgium for our first ever in-person conference, Mautic Conference Europe.
We had one previous in person event back in 2019 directly after the acquisition of Mautic Inc. by Acquia where we were just setting up our governance models and starting work on Mautic 3, and then the pandemic hit.
Since then, everything we have organised has had to be virtual, and while it's better than nothing it simply does not (in my opinion) replace the in-person event in open source communities.
In open source, most of the folks involved are volunteers who are contributing because they love the product, the community, but most importantly the relationships we build when we get to know each other. That simply does not happen in the same way as with virtual conferences and sprints.
We also found over the last few days that contributions are super-charged during in person events, because folks are all sitting in a room together and can get help quickly. Also most folk were able to step away from their 'real' work and other commitments for the majority of the two days, without being distracted - not always possible to do when you're at home or in the office!
Planning the event
Of course given the situation in regards to the coronavirus pandemic, it was a big decision to go ahead with an in-person event. We purposely focus on inviting the local community for these events, but naturally because our community is worldwide, often we have folks coming from all over the world.
How do you balance needing to put in place precautions to keep people safe, with facilitating building those all important relationships and also acknowledging the free choice of the individual when it comes to things like vaccinations?
We decided to adopt the requirements to enter the country as our basic mandatory requirements to attend the event, which included:
Being fully vaccinated; OR
Having proof of a negative PCR test no more than 72 hours before arriving in the country
It would be sensible to make sure you know the requirements for any country you are planning an event in, and keep up to date with the changes on those requirements.
Top tip: I used changetower.com to track changes on the main pages from the Belgian government relating to covid-19 travel requirements. This allowed me to get a daily notification of any changes that had been made and communicate this out to the attendees and team.
We did also struggle with folk who needed to get a visa to attend - two were declined citing that there wasn't a good enough justification for travelling - so that's something to bear in mind if you have international speakers.
During the event
We decided to make it mandatory for every attendee to take a rapid antigen (lateral flow) test each morning of the event as further reassurance. We asked people to bring their own tests, but most did not - an additional cost we were not expecting but probably should have planned for!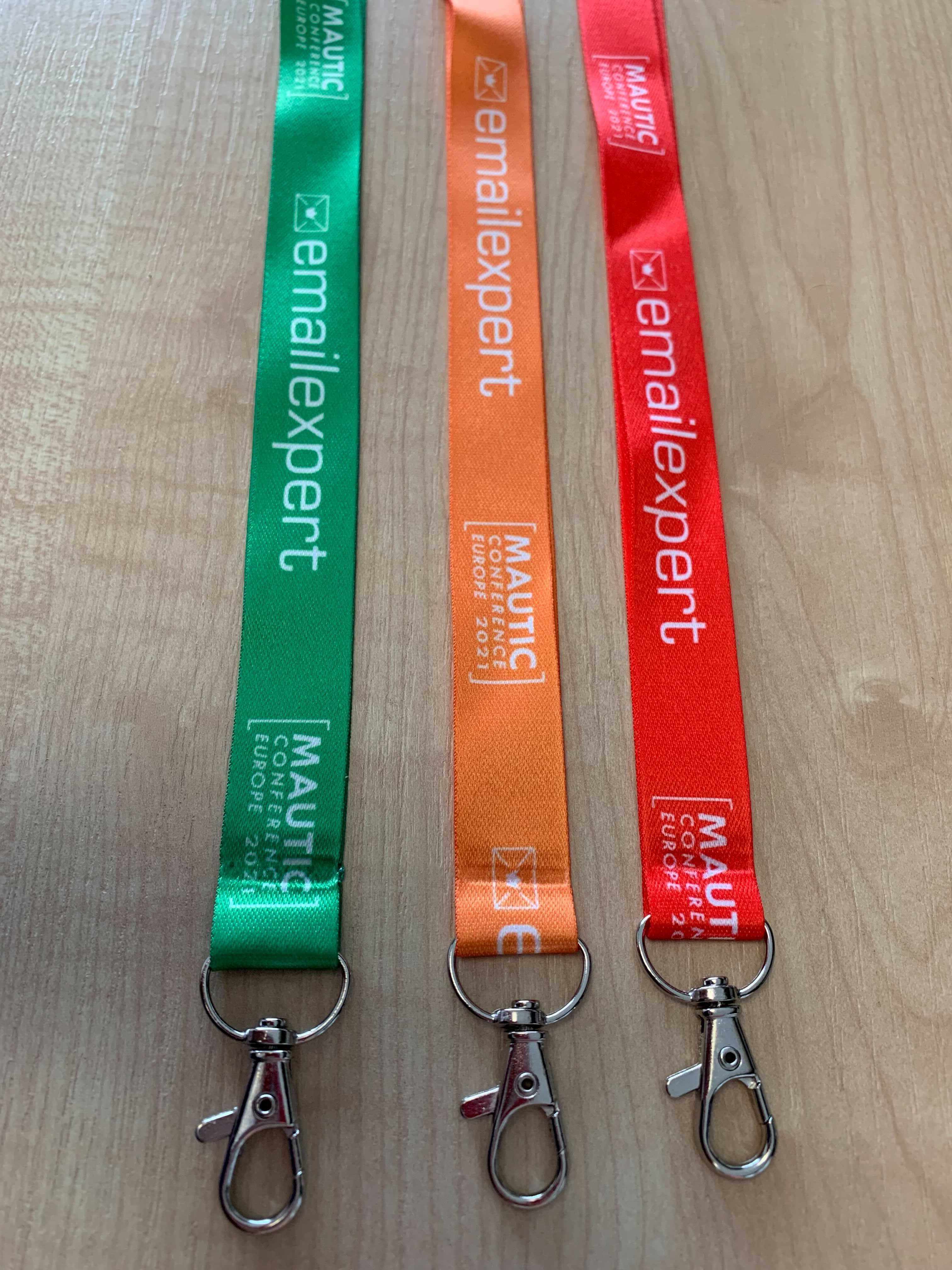 During the event, masks were required when moving around the venue and in any public spaces, but not during the actual conference and sprints themselves when seated and working together.
We also had alcohol hand gel throughout the venues and people were encouraged to ensure they were using it regularly.
We offered attendees the opportunity to show with the colour of their lanyard how comfortable they were with physical contact:
Green: All good
Orange: Happy to shake hands but no closer please!
Red: Please keep 2m apart (but we can still chat!)
While the vast majority of attendees chose a green lanyard, with a few choosing orange, I feel that this was a very helpful way to give people the ability to share their own comfort level with physical closeness without the awkwardness of having to pull back from over-enthusiastic huggers!
We hypothesised that most folks attending are probably comfortable with close contact, whereas those who are not were probably not ready to attend in-person events at this point.
The conference centre we chose had a maximum capacity of 70, and we were planning for 50. We ended up having about 30 attendees, which meant that we were able to be quite spaced out in the auditorium and the plaza area (where lunch and breaks took place) without too much difficulty.
Community Sprint
Following the main conference we organised a Community Sprint and a Leadership Team Summit - both of which were hybrid, in that people could join us virtually via Slack and video call.
In retrospect we could have held the main event as a hybrid event, however it simply came down to the matter of resources. We did not have enough volunteers to help us with putting on a hybrid event, so we chose to focus just on the in-person experience.
The community sprint, however, was fully open to anyone. We had a great range of participation from people working on a pitch deck to help agencies and individuals with pitching Mautic, to developers working on reviewing, testing and adding automated tests to features and bug fixes which were in our backlog, through to the education team working on documentation resources and the community team putting together a blueprint for how to run contribution events in local communities.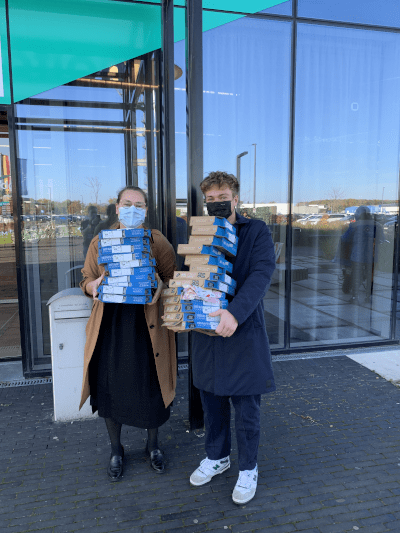 It was great to see people really excited and inspired to contribute, and to see the phenomenal momentum that was generated as a result.
We organised this by creating a Miro board for each team. This enabled the team leads to identify key tasks that people could pick up and work on during the day, while allowing everyone to see in real time where the tasks were in the workflow and which ones needed working on.
It also served as a record of what had been accomplished by each team when we did our round-up at the end of the day.
Lunch was - of course - an epic pizza order!
Evening socials
We organised some informal social gatherings on the evenings where people were going to be in Hasselt, at various venues nearby the hotel where the team and speakers were staying. We found some really fantastic venues who were great at catering to an international audience with varying dietary requirements.
In Belgium there is a requirement for visiting restaurants or cafes to have a QR code which can be scanned (locally it is called the Covidsafe app) to show you're fully vaccinated or have a negative PCR test result - this caused a problem for a few people who did not have a scannable vaccine record. Most people had no problems at all with their codes being scanned from all over the world - the app recognised them all without any problems.
Some places the folks who didn't have a QR code to be scanned were allowed to enter, some they were not - there didn't seem to be much in the way of rationale behind whether they were or were not allowed in. We were also required to provide some form of ID (e.g. a passport, drivers license) to accompany the vaccine or PCR test record to ensure you were the person who the vaccine/test record relates to.
Conclusion
All in all, we had a really awesome event and I feel that we took all the precautions that we could to ensure that our attendees' health and safety were front and centre. It was a bit of a novelty to do the covid tests each morning, but I am glad that we enforced that requirement as an additional safety check.
Everybody who attended really enjoyed the event and gained a lot from coming together in person. We certainly gained a lot as a community from the opportunity to sit around a table together and work through things.
We were fortunate in that we didn't have anybody experiencing covid-related symptoms during the event, or any confirmed positive tests. I would suggest that as an event organiser, you need to think about what you would do if someone were to test positive, and have plans to deal with that situation - especially if they were a speaker or a member of your team.